Kung Fu Martial Arts, Kickboxing & MMA School
Use the links below for more information on our
Improve fitness, confidence, discipline and focus.
With over 40 years of experience, Patenaude Martial Arts is considered the first Kung-Fu based martial arts school in Ontario.
Offering classes for students starting as young as 3 years old there is a class for everyone. We take pride in our family atmosphere and offer competitive prices and an excellent family discount plan. 
We offer classes and private lessons for students of all ages and fitness/experience levels. We also offer PA day camps, summer camps, and birthday parties. You can contact us directly at 613-707-2007 for details and availability.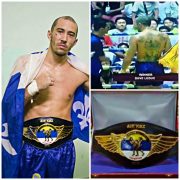 "Patenaude Martial Arts Belleville is the BEST Kickboxing and MMA School in Belleville Ontario, period. I should know, PMA Patenaude Martial Arts Belleville helped me win the Golden Belt in Myanmar!"
Health & Fitness
Overall fitness is too important to ignore, and most martial arts schools fail in this area. No matter which program you choose: Self-Defense / Kung-Fu or MMA / Sanshou Kickboxing Program, we've made sure to implement a solid fitness training program that is specific and complimentary to both these programs.
Kickboxing / MMA
Whether you're going to compete, you're just a fan of the sport, or you're looking for the best drills, techniques and principles to be successful in kickboxing or MMA. We have spent over 40 years developing advanced techniques from strikes to footwork, sparring to submissions.
Self Defense / Kung Fu
The ability to defend yourself or your loved ones when it counts is a skill everyone should seek to master. With over 40 years of experience we have designed breakthrough ways of quickly grasping new concepts or techniques, so you can spend your time enjoying the training, instead of being frustrated by it.
Weapon Training
If you are looking for more in your self-defense / Kung-Fu program, we are offering exclusive expertise classes on this important subject. Bo Staff, Escrima Sticks, Nunchaku, Dagger, Kubotan and more!
Training for Kids
We have over 35 years of experience working with kids, helping them develop confidence, independence and self-control. Our program balances a traditional martial arts class structure with practice drills that kids love!  
Self Development
Happier, more fulfilling lives. Martial arts training builds confidence and positive self-esteem. Seeing their success and achieving personal goals ensures students can be proud of themselves.