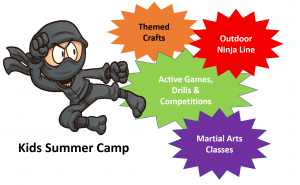 Your kids will have a great time taking part in daily Martial Arts classes, active games, drills & competitions, themed arts & crafts, outdoor ninja line, nerf fun, and more!
Covid-19 contact restrictions in place and regulations compliant of course 🙂
* Limited Spaces Available
*Limit of one day camper space available for each camp program
Junior Ninjas (ages 4-6): July 12-16 & Aug 9-13
Senior Ninjas (ages 7-11): July 26-30 & Aug 23-27
Camp Hours: 8: 30-4: 30pm * 30 minute early drop off and late pick up option available.
Cost: $ 199.95 per week / $ 40.00 per day
Early Drop Off / Late Pick Up Daily Rate: $ 5.00
Weekly Campers receive a free school shirt and set of Nunchaku!
Single Day Campers can purchase a set of Nunchaku from the school at a discounted rate if weapons training is included on the day (s) they are attending.
Register today by completing the forms below.
Kids Summer Camp Registration Form