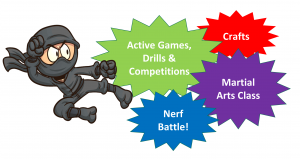 KIDS PA DAY CAMP
2022-2023 School Year
Kids have a blast in our PA Day camps taking part in a Martial Arts Class, multiple active games/drills, a themed craft, active drills, a trip to the East Hill Park (weather permitting) and we finish the day off with nerf battle fun.
Ages 4 – 11 years
Camp Hours: 8:30-4:30pm
* 30 minute early drop off and late pick up option available ($5.00 per day each)
Cost: $45.00 per day + HST (save 10% when you register for the 2022-2023 bundle pack(
Early Drop Off / Late Pick Up Daily Rate: $5.00
Dates:
Monday, September 26th

Monday, October 24th

Friday, November 25th

Friday, February 3rd

Friday, June 2nd

Friday, June 30th
Register today by completing both forms below.
Kids PA Day Camp Registration Form
* Minimum of 10 campers required
KIDS 2023 SUMMER CAMPS
Each week will include daily Marital Arts classes, in these classes your kids will learn and practice Kung Fu techniques, Nunchaku basics (full day program only), and kickboxing/MMA basics. We also have lots of themed crafts, loads of active games/activities, nerf fun & quiet time activities.
For Full Day Camps
Weather permitting, we will be taking a daily outdoor excursion.

At the East Hill Park the kids will have free time to enjoy the playground and experience the challenge of our Ninja Lines and Slacklines.

At the Kinsmen park they will enjoy the splash pad (weather permitting) and playground.
Full Day Programs
Camp Hours: 8:30-4:30pm

$229.95 per week per camper or $55.00 per day per camper

*

30 minute early drop off and late pick up option available ($5.00 per day each)
CAMP DATES 
Senior Ninjas (ages 8-12)

July 3rd – July 7th

August 21st – August 25th

Junior Ninjas (ages 4-7)

July 17th – July 21st

August 7th – August 11th
REGISTRATION INFORMATION
To register your child for any of our 2023 Summer Camps please complete BOTH forms below
* Minimum of 10 campers required
COME DISCOVER YOUR POTENTIAL